Fun!
C's love for Nike has definitely started rubbing off on me. I let out a squeal when I saw that the Nike Running Wagon had made a stop at the Alabang Town Center yesterday. A VW van had been converted into a museum on wheels, swoosh on the front, the old-leather and faux wood interior crammed full of (reproductions of) sport memorabilia from the days of Steve "Pre" Prefontaine -- the young American distance runner who first signed a contract with Nike in 1973. Prefontaine's running shoe was designed for him by his Oregon coach Bill Bowerman (he used his wife's waffle iron to mould the soles), who later became the co-founder of Nike.
With über-slick just everywhere these days, it's clever that the Nike marketing folk finally stepped back and went old-school for this particular campaign. Though I'd never profess a desire to be living in the 70s, this nod to the past is actually refreshing. I am sure I wouldn't have paid as much attention if it were just another polished mall set-up. Plus I think it's great they're hitting the schools (Wonder how they get the van there. Does it really run? Is it trucked to its next destination?). I was so delighted with the whole thing, seemed even the Nike guys at the venue were delighted I was so delighted.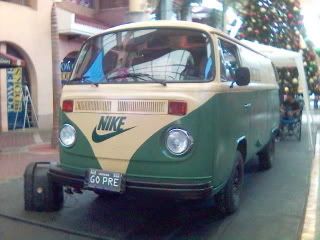 The vintage TV was housing for a more modern monitor that had Pre racing footage and interviews on a loop.