Quiet
No looming deadlines today (clapclapclap). I am taking the opportunity to further clean out my hard drive. If all goes well, by sunset all my files will have been archived away, and I can reformat this old boy before the week's end. The process relaxes me in a way—the cheap thrills of the obsessive-compulsive, eh? I just finished a glass of fresh calamansi juice and now am eating a cup of green tea ice cream. Can you tell that it is a quiet, pleasant day?
Last Monday at the movies I had the pleasure of meeting two of Carlo's friends—Arnold Arre and Cynthia Bauzon-Arre, such a nice (and talented) couple. They will be launching their magazine soon, called Wedding Essentials.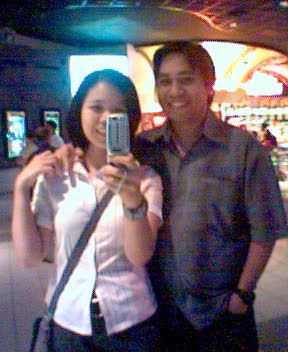 This is amusing. See what Cynthia's taking a
photo
of.